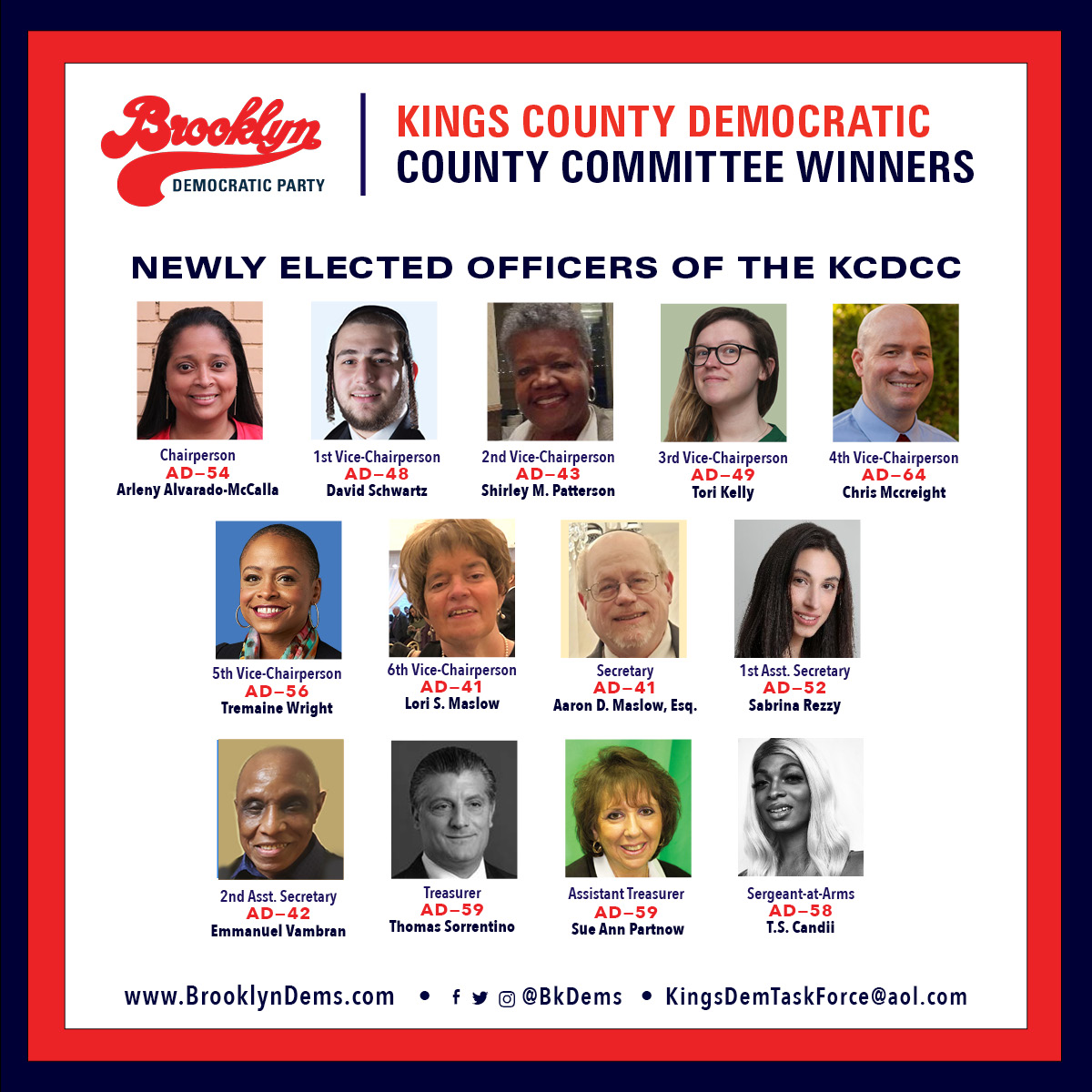 Chair
Arleny Alvarado-McCalla is a longtime Brooklyn resident. The third child of Honduran immigrants, Arleny and her family moved from Hoboken, New Jersey to Brooklyn in the early 1980s. Arleny saw educational inequities firsthand as the mother of public school children. She served as PTA treasurer at her children's school, while working full-time at the Bank of New York, studying at Long Island University Brooklyn Campus, and acting as a caregiver to her elderly parents. Through the years, Arleny has seen that her neighborhood has gone through many changes and consistently supported her local elected officials in finding solutions to many of her community's problems. The COVID-19 pandemic has given her the opportunity to look beyond her own needs and see to it that the needs of underserved communities are met. She has partnered up with local nonprofits to establish a pop-up food distribution site in her front yard, and delivers food to homebound constituents.
As the 54th AD District Leader and candidate for Chair, Arleny hopes to bring about change in her district, and across Brooklyn. Arleny believes that the only way to accomplish long-lasting goals is through unity. If elected, she will be the first Latino woman to hold this position.
1st Vice-Chair
David Schwartz
David Schwartz is the District Leader/State Committee member for the 48th Assembly District, representing Borough Park and parts of Midwood. Since being elected at the age of 22, he has been a coalition builder, working with elected officials across Brooklyn. David served as Communications Assistant for a New York State Assemblymember prior to becoming District Leader. He is the youngest-elected leader in the history of the Brooklyn Democratic Party. A graduate of a yeshiva, David is a fierce advocate for the Jewish community. He hopes to bring unity to the Brooklyn Democratic Party as first vice-chair and District Leader. David lives in Borough Park with his wife and two young children.
2nd Vice-Chair
Shirley Patterson
is a District Leader/State Committee member for the 43rd Assembly District, where she has served honorably for over ten years. Before becoming District Leader, she served on the Community School Board for District 17, overseeing 26 schools and close to 26,000 students as Secretary. She was Chair of the Crown Heights Neighborhood Advisory Board, which dealt with the federal block grant, and recently retired from SUNY downstate, where she was an office manager in facilities department. Shirley also formerly worked at Chase Bank. Shirley served as the Corresponding Secretary of the Alumni Association of Medgar Evers College. Her life's work has focused on improving the quality-of-life for Crown Heights residents, including seeing that students got reading materials, had access to educational programs and vetting principals and other administrators. She raised her two children in Crown Heights, where she a current resident.
Third Vice-Chair
Tori Kelly is Chief of Staff to State Senator Andrew Gounardes, who represents the 22nd Senate District in southern Brooklyn. Prior to that she worked for the New York State Assembly for many years. She is currently in her third term as State Committee Member and District Leader for the 49th Assembly District representing portions of Dyker Heights, Bensonhurst and Sunset Park. In addition to her government and political work, Tori co-founded the Sexual Harassment Working Group in 2018 and advocates for strengthening workplace protections for workers who face harassment and discriminations. She resides in the Dyker Heights neighborhood of Brooklyn with her husband.
Fourth Vice-Chair
A former small business owner, Chris McCreight currently works as the Chief of Staff to Councilman Justin Brannan. Before that, he worked in the private sector as a Project Manager in one of the largest Naturally Occurring Retirement Communities in Brooklyn. Always fighting for Bay Ridge, he co-founded the Bay Ridge Democrats in 2010.
Fifth Vice-Chair
Tremaine Wright
Tremaine Wright is a New York State Assembly Member who serves the 56th Assembly District of Brooklyn, NY which represents the Bedford-Stuyvesant and Northern Crown Heights neighborhoods. Tremaine is a Brooklyn native who still lives on the same block where her grandparents raised their family. She is a graduate of Duke University and the University of Chicago Law School. She has practiced law at Brooklyn Legal Services and private law firms. Through pro bono work, she has assisted incarcerated mothers, small-business owners and those facing various spousal, custody and support matters. Tremaine has served on Community Board 3 for more than 12 years and most recently served as the board chairperson. She resides in Bedford-Stuyvesant where she continues to work within the community to improve the neighborhood's quality of life.
Sixth Vice-Chair
Lori Maslow
Lori Maslow is the District Leader/State Committee member for the 41st Assembly District. She is a retired teacher with a career that spanned nearly four decades. Lori was an active UFT member and is currently a leader in a Democratic political club and a volunteer at several food banks.
Secretary
Aaron Maslow is an attorney, practicing for nearly 40 years. He has represented numerous candidates in election law matters; NYS Accredited Provider, Continuing Legal Education; past NYC administrative law judge; legal counsel to the Board of Elections in the City of New York, 1988-1992; past vice president, Cong. Bnai Israel of Sheepshead Bay; began Democratic Party activism in 1968, supporting a local State Assembly candidate affiliated with the reform movement; candidate for delegate to 1976 Democratic National Convention; member of the Democratic County Committee for many years; past delegate to Judicial Conventions; resides in Marine Park, in the 41st Assembly District, with his wife Lori, a Democratic District Leader.
Mr. Maslow's op-ed article about a high school classmate, " 'Do Not Murder,' " was published in The New York Times in 1994. A 2007 op-ed in the New York Sun by him advocated amending the judicial selection process in New York. He has written articles which appeared in other periodicals, including Kashrus Magazine (publication concerning the kosher food industry) and Thump (publication of New York Rabbit Rescue & Rehab / New York City House Rabbit Society).  As an Orthodox Jew and an ardent advocate for minorities — racial, religious, and gender — Mr. Maslow represented the first openly lesbian judge in Kings County, the first openly gay judge in Kings County, and the first Muslim judge in New York. One of his proudest moments in public service was offering scriptural readings at the installation of Judge Carolyn Walker-Diallo, the first Muslim judge in New York.
1st Asst. Secretary
Sabrina Rezzy currently works in the New York State Assembly as a Director of Communications and Legislation. She is from a blue-collar town in Pennsylvania and has lived in Brooklyn for over five years. Prior to working for the Assembly, she was an associate at a technology-focused investment fund and a law clerk at a civil litigation law firm in Philadelphia. Rezzy graduated from Temple University in 2012 with a bachelor's degree in Political Science, and formerly interned on Capitol Hill. She lives in Brooklyn Heights with her husband and children.
2nd Asst. Secretary
Emmanuel Vambran
Emmanel Vambran is a 42-year resident of Flatbush, Brooklyn. He is a graduate of Shaw University, with a degree in Communications. He was a producer at ABC news and served as the financial secretary of his Alumni Association for nearly a decade. Emmanuel lives with his wife, and four children.
Asst. Treasurer
Sue Ann Partnow
Born and raised in Brooklyn, Sue Ann Partnow is a graduate of the New York City public school system and a graduate of Brooklyn College. She is the Director of the JASA Senior Center, where she has served for nearly four decades. Sue Ann is a founder and a board member of the Canarsie Volunteer Ambulance Corps. Sue Ann is a former member of Community Board 18, and held various offices with the PS 312 PTA. She is also a member of the Bergen Beach Civic Association. She is also a former officer of Pals for Palsy (United Cerebral Palsy) where she raised thousands of dollars for children and adults afflicted with cerebral palsy. Sue Ann lives in Bergen Beach Brooklyn. She is married for over 40 years, is the mother of two sons and a daughter-in-law as well as a grandmother. Sue Ann is also a trustee of the sisterhood of Temple Sholom and District Leader/State Committee person for the 59th Assembly District. She has received various awards fro her community service.
Sergeant-at-Arms
T.S. Candii
T.S. Candii is a transgender political activist and public speaker; lead organizer with Decrim NY and Repeal Walking While Trans Ban coalition; founder of Black Trans News and Black Trans Nation; resident of East Flatbush.